If you're looking for Elementor alternatives, a popular WordPress page builder, you've come to the right place.
Here, we've compiled a list of seven options that can assist in creating individual content or building an entire website.
What Are The Best Elementor Alternatives?
Here are some of the best alternatives to Elementor.
Divi Builder, created by Elegant Themes and led by Nick Roach, is a powerful WordPress page builder. It has become the flagship product of Elegant Themes, replacing their previous offerings of 87 different themes.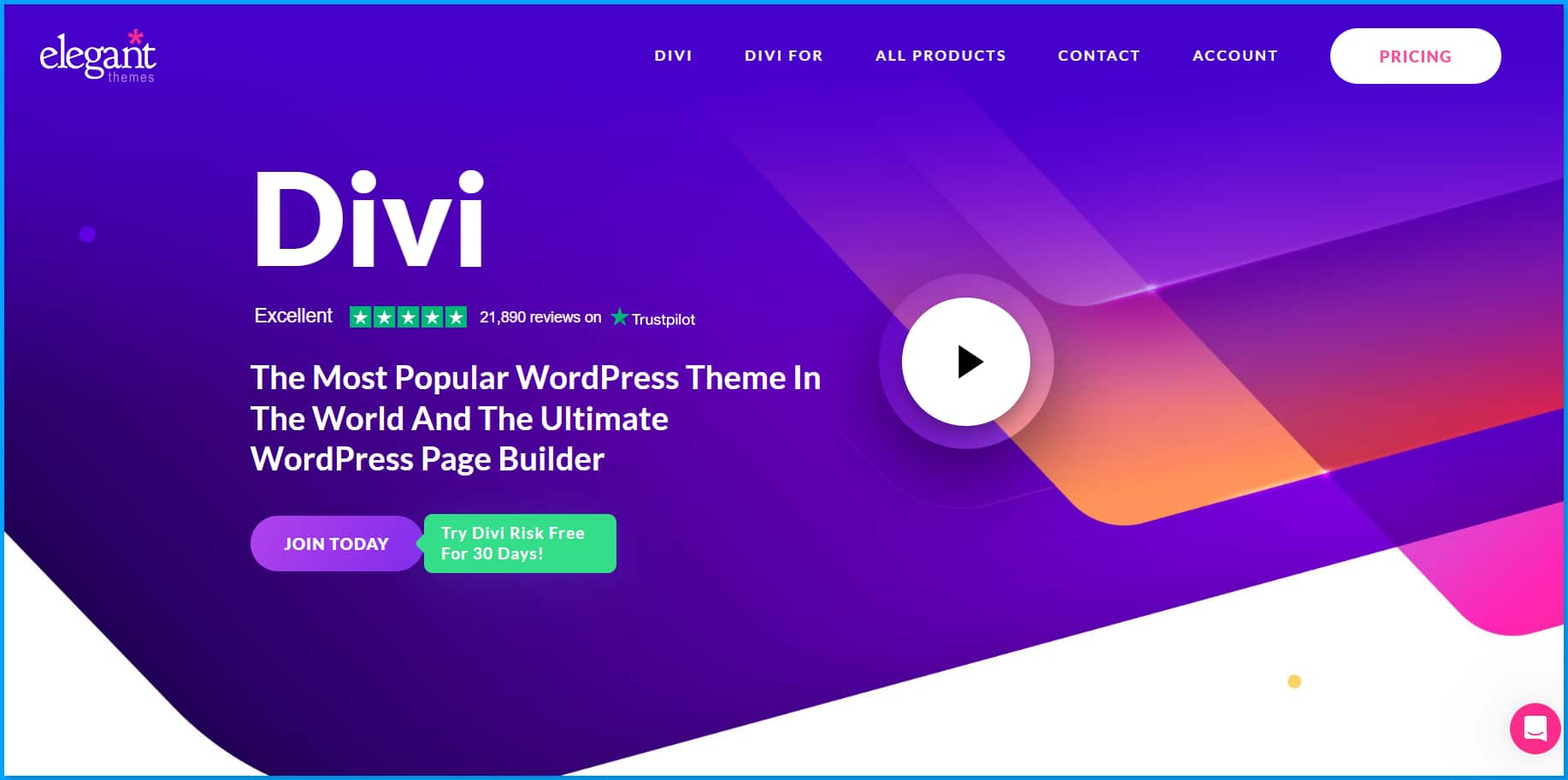 Divi Builder offers a wealth of features for creating visually stunning websites without the need for coding skills, making it a popular choice among over 700,000 web designers and business owners.
The visual editor it provides replaces the default WordPress post editor, making it a great option for agencies, freelancers, and any website owner.
Key Features Of Divi Builder
Theme Builder
WooCommerce Builder
Form Builder
Advanced Gradient Builder
Premade Templates
Third-Party Integrations
Custom CSS
Global Colors
Advanced Hover Effects
Custom Fonts
Dynamic Content
Pricing Options Of Divi Builder
Elegant Themes offers two options for using Divi Builder on multiple websites.
The first plan is a yearly subscription at $89 per year, while the second option is a one-time payment of $249.
Both plans allow you to use Divi Builder on an unlimited number of websites.
Learn more about the Divi alternatives and find out some of the best page builders that can be better than Divi.
Gutenberg is the new default post editor in WordPress, which uses content blocks. Although it is free and part of the WordPress core, it is not as flexible as other WordPress page builders such as Elementor or Divi.
It lacks page templates and advanced drag and drop functionality, and it is only a backend editor, not allowing for live previews as you build a page.
Additionally, it has limited blocks and customization options, which can be extended with add-ons, but still falls short compared to standard page builders.
Key Features Of Gutenberg
50+ blocks
Drag and drop page building
Save reusable blocks
Patterns to add feature such as columns, buttons etc.
Undo & Redo options
Unlimited colors
Unlimited background colors
Drop caps
Custom CSS classes
HTML anchors
Featured images
Tags and categories
Theme-specific post/page settings
Fullscreen mode
Compatibility with all WordPress themes
Many add-ons
Keyboard shortcuts
Pricing Options Of Gutenberg
Gutenberg is a free block editor that is included in the WordPress core.
It comes with every WordPress installation, so you don't need to pay any additional fees to a third-party company for using it.
Beaver Builder, launched in 2014, is an established option in the WordPress page builder space.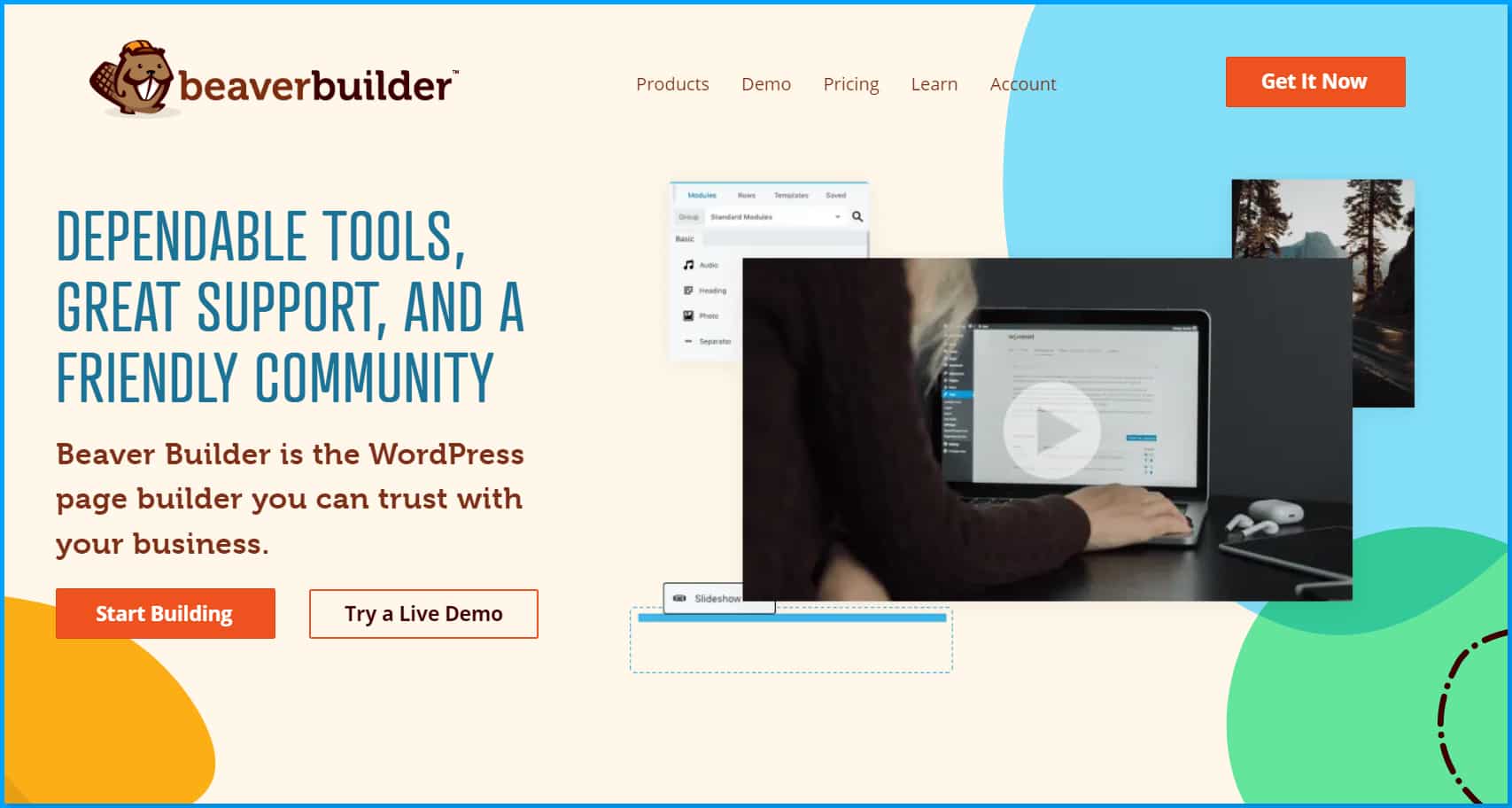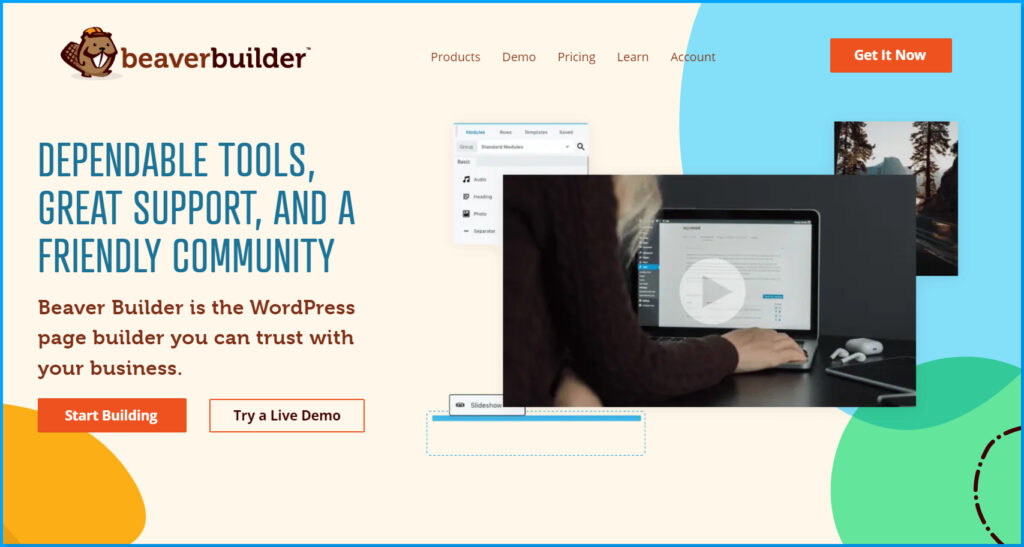 It may not have as many features as Elementor, but it prioritizes stability and consistency, which has garnered a dedicated user base. The core Beaver Builder plugin only provides page building options for individual pieces of content.
However, there is an additional official extension called Beaver Themer that enables full theme building similar to Elementor Pro.
Additionally, there is also a Beaver Builder theme that can be used.
Key Features Of Beaver Builder
Drag-and-drop front-end builder
Content modules for images, text, video, buttons, and more
Ability to save modules, templates, and rows
Global Settings
Option to add CSS classes and IDs
Pricing Options Of Beaver Builder
Beaver Builder offers a free version and paid plans starting at $99 for the first year. Like Divi, even the lowest plan supports an unlimited number of sites.
Thrive Suite is an online toolbox that includes a powerful WordPress page builder for online businesses of all sizes. Developed by the creators of effective landing pages, Thrive Suite is designed specifically for business and conversion-focused websites.
In addition to the page builder, it offers pre-built conversion-optimized elements. The page builder is designed to be fast and remove any barriers between the idea in your head and the business website you want to create.
It excels at creating high-converting home, landing, webinar, product launch, and sales pages. Thrive Themes was the first to create a frontend editor, which makes building your website visually fast and enjoyable.
With thousands of integrations available, you can automate your workflow and run your business on autopilot.
Key Features Of Thrive Suite
Smooth frontend drag-and-drop builder
Beautiful formatted blog posts
Ultra-flexible column layouts
Attention-grabbing text and image combinations
Total font customization
Multiple background styles
Advanced hover effects
Responsive and mobile-ready design
Dynamic animations and actions
Pricing Options Of Thrive Suite
Thrive Suite Membership is offered at $90 per quarter or $228 per year. It provides access to all Thrive Themes products, features, unlimited updates and support.
Themify Builder offers a balance of user-friendliness and powerful options for creating beautiful WordPress websites without coding.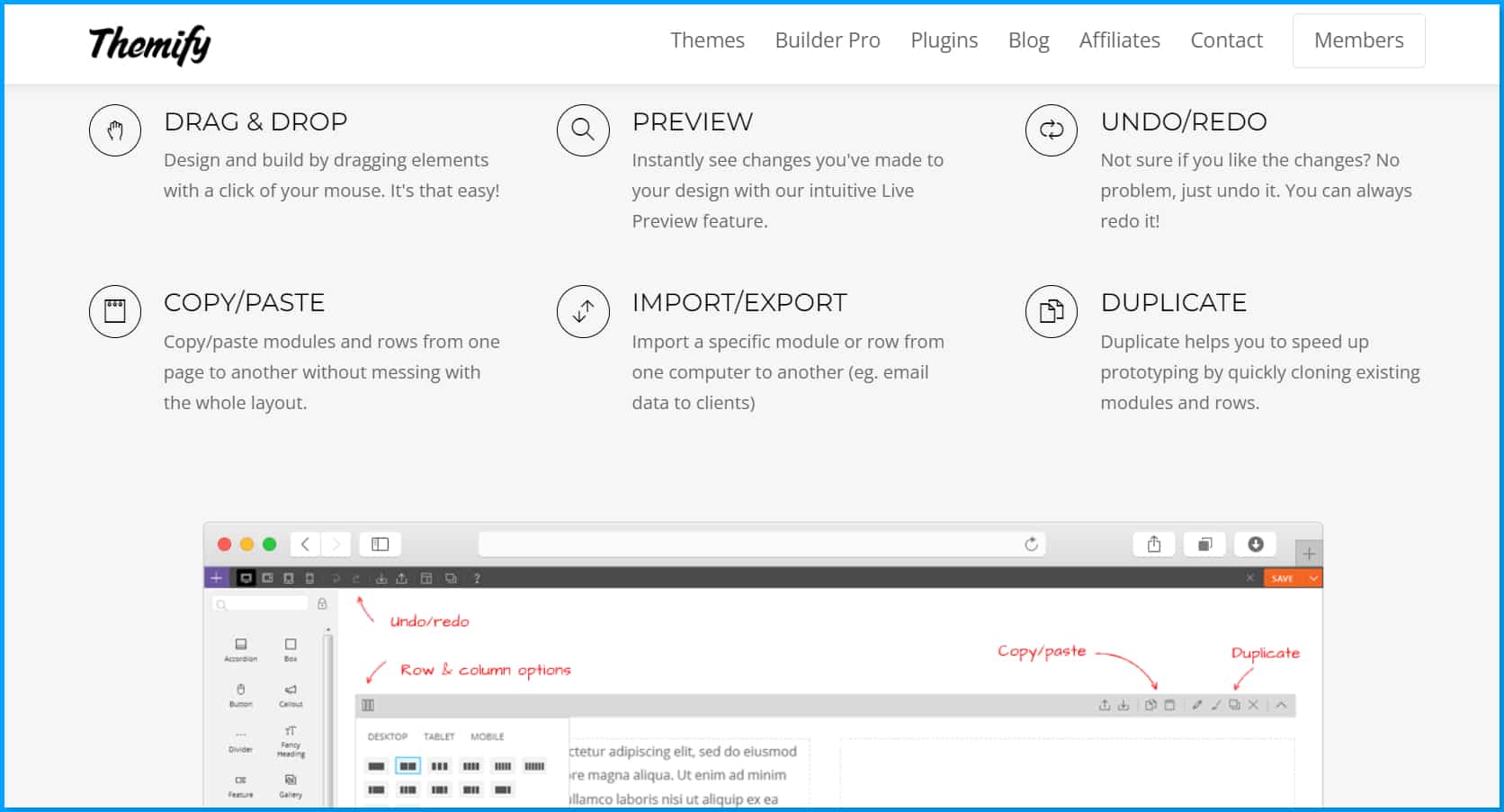 It has both a backend and frontend editor for added flexibility in bringing your ideas to life. The free plugin on WordPress is worth checking out.
The streamlined visual editor allows for easy drag-and-drop website building, making it a popular choice among Photoshop designers. Setting up and using Themify Builder is easy, and they have responsive customer support and detailed documentation.
Themify Builder Pro comes bundled with their themes, but it is also compatible with other WordPress themes and supports a wide range of popular plugins.
Key Features Of Themify Builder
Back-end and front-end editing
40+ pre-designed layouts
Ability to copy/paste or duplicate modules and rows
60+ animation effects
Pricing Options Of Themify Builder
The Themify Builder plugin is available for free download, or you can upgrade to the pro version starting at $69 per year.
Thrive Architect is a page builder designed to save you time and help you focus on your business. Its front-end editor allows for rapid implementation of design features without taking you away from your business tasks.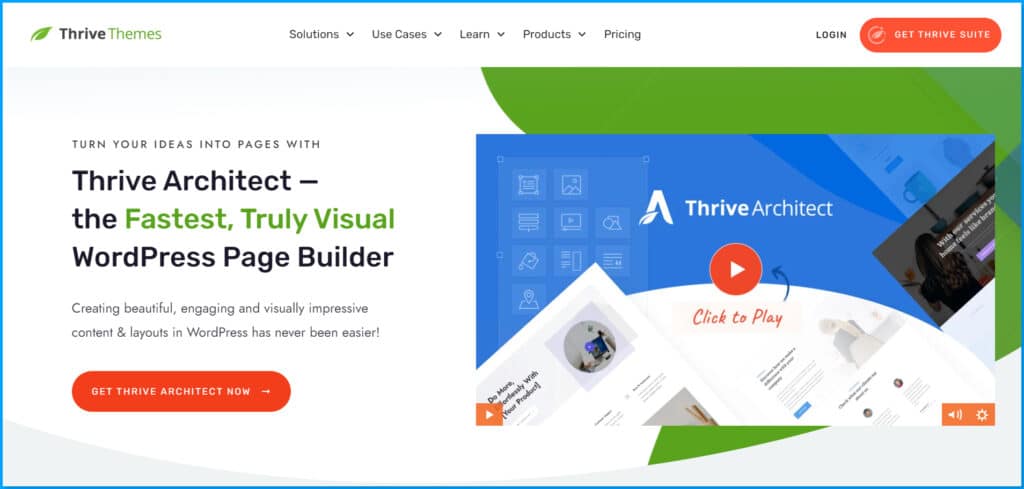 As a business owner, Thrive Architect can help you create a website that generates new leads with its conversion-focused elements such as action buttons, countdown timers, contact forms, and more.
Additionally, it offers pre-designed professional landing pages, allowing you to dedicate more time to growing your business.
Key Features Of Thrive Architect
Front-end editor
'Click-to-edit' modules
319 pre-built landing pages
Conversion-focused building blocks
Custom HTML blocks
Pricing Options Of Thrive Architect
Thrive Architect's subscription plans begin at $97 per year. The basic plan covers one website and includes access to hundreds of page templates and beginner tutorials.
Oxygen differs from other page builders on the list as it is a visual designer for your entire website rather than specific pages.
This gives you more control over your site's appearance, from headers to footers.
Oxygen can be especially beneficial for building a WooCommerce business as it offers over 20 e-commerce elements to customize any part of your store, including shop pages, individual products, and checkout pages.
Key Features Of Oxygen
Drag-and-drop editor
Hundreds of design blocks
27 animation types
Global colors
Flexbox and CSS grid
Pricing Options Of Oxygen
All plans for Oxygen have one-time payment options starting at $129 for the basic version. The higher tiers offer integration with WooCommerce and a Gutenberg Block Builder.
Final Thoughts
If you're looking for a cost-effective solution for creating a unique web design, you may want to consider options other than Elementor.
Both Divi and Beaver Builder offer similar functionality and features, but at a lower cost. This allows you to allocate more funds toward your online business.
Meanwhile, you can also use the Elementor Pro discount code to avail 20% extra off on your pro subscription.
Frequently Asked Questions
Is oxygen better than Elementor?
Comparing Oxygen Builder and Elementor, there's no clear winner as both have advantages and disadvantages. Elementor excels in usability, templates, add-ons, and widgets. Oxygen, however, outperforms in terms of performance, customization, and flexibility.
Why is Divi so popular?
Divi is widely used because it can build any type of website, including blogs, portfolios, small business sites, eCommerce stores, and more.
Is Gutenberg better than Elementor?
Gutenberg has an advantage over Elementor in terms of ease of use, built-in integration with WordPress core files, and compatibility with other WordPress themes and plugins. Though limited in customization options, it's well-suited for beginners.